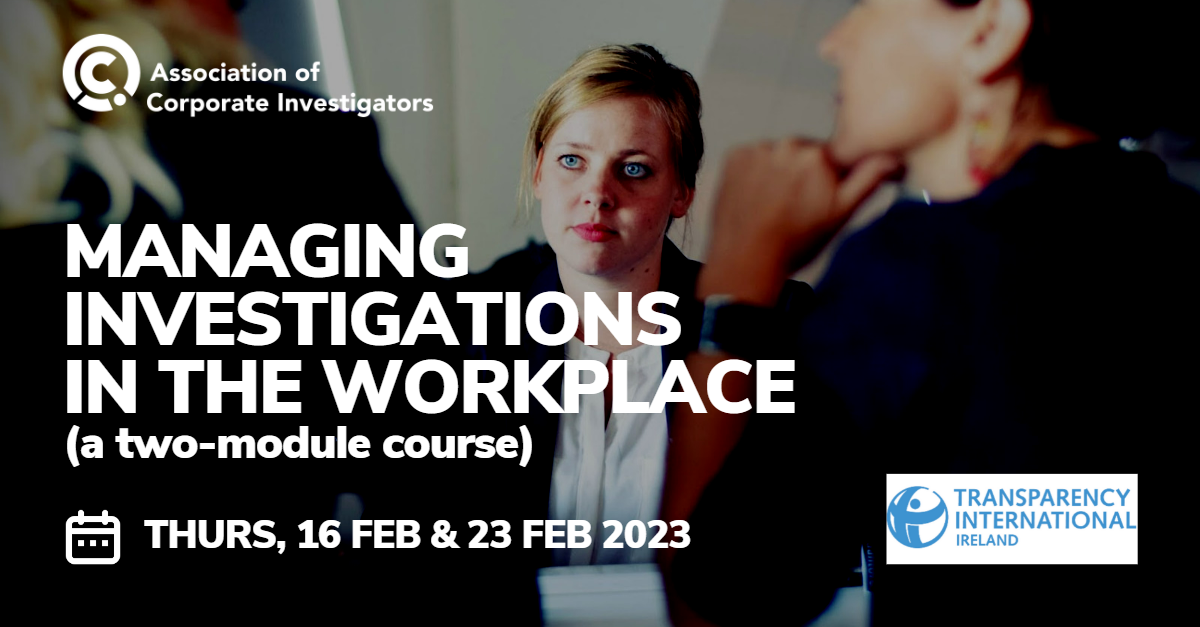 The ACi & Transparency International Ireland are pleased to host two half-day online workshops on Managing Investigations in the Workplace.
Workshop 1: Assessment & Management of an Investigation
Thursday 16th February 2023
9.30 am – 12.30 pm
Working through a case study we will look at:
Managing and responding to a Whistleblower
Preparing an Investigation Plan
Collection and evaluation of evidence
Workshop 2: Investigative Interviewing & Report Writing
Thursday 23rd February
9.30 am – 12.30 pm
Engaging and reporting to stakeholders
Investigative Interviewing
Report writing
Controls & Process gaps, remediation, and case closure.
At the end of the workshops attendees will be able to:
Describe the key elements of an effective, fair, and respectful corporate workplace investigations process
Identify the common issues that arise during investigations
Apply a six-step investigations process
Collect and evaluate information and evidence
Implement a planned investigation approach
Understand the theory of investigative interviews of witnesses and subjects
If you attend both sessions there is a discount for the second session. A further discount of 10% will be applied for Integrity at Work and ACi members. Please contact your Association for the code.
SORRY THIS EVENT IS SOLD OUT
This workshop will take place on Zoom and delegates will receive a diary invite after registration.