ISO 37008 Internal Investigations of Organizations
In 2022 The International Standards Organization (ISO) commenced a consultation to develop a new standard – ISO 37008 – for the Internal Investigations of Organizations.
ACi was involved as a Category A liaison organization in the ISO's processes for consensus decision-making and stakeholder engagement within national standards bodies (NSBs) and liaison organizations,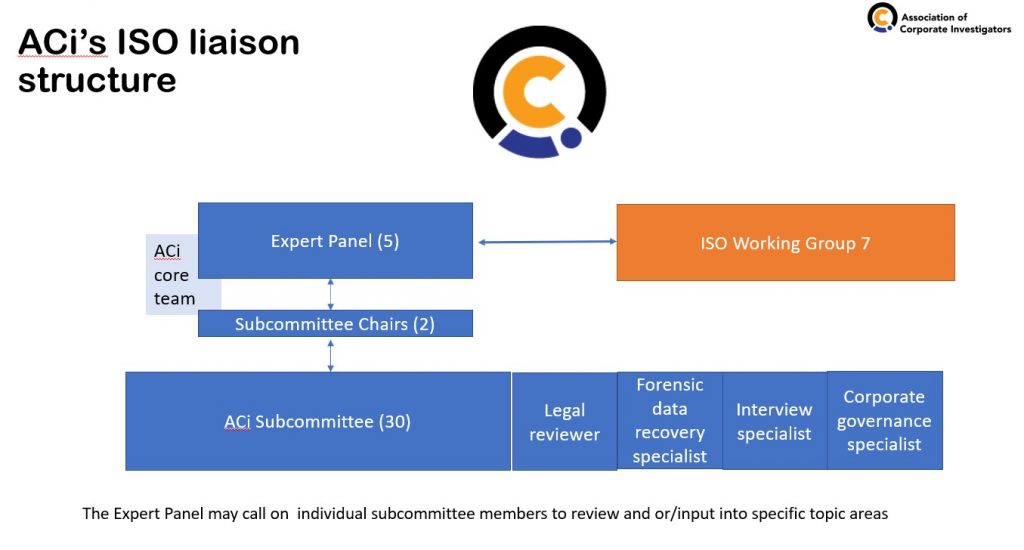 ACi's Expert Panel
Hannah Clare, Safeguarding Advisor, Norwegian People: Chair of ACi ISO sub-committee
Jeffrey Giddings, OSCE Austria
Ashu Sharma, Group Investigations Manager, Anglo American
Patrick Wellens, Bayer
Steve Young, ACi CEO
ACi ISO Sub Committee
Julia Arberry, Partner, Stoneturn
Lynn Cameron, Microsoft UK
Jasvinder Dhankhar, Investigations Manager, BT India
Trevor Dickey, Forensics Services Manager, GSK London
Sean Donaldson, Gcelsa Spain
Phill Dunn, Global Anti-Corruption Specialist, NRC
Mia Falk, Head of Corporate Crime & Compliance, Vinge
Bruce Forbes, Global Head of Investigations, Prudential PLC
Ian Fotheringham, Partner & Corporate Investigations Specialist, John Lewis UK
Basha Galvin, Investigations Specialist, BAT/ACi UK, ACi COO
Mark Gough, Investigations Specialist, ACi Australia, ACi Advisor
Jamie Gregory, Director, Corporate Investigation Unit, Sun Life
Ho Jun Yi, Investigations Specialist
Phil Jackson, Anti-corruption & compliance, HP UK
Ayoub Katuga, Ascon Africa
Jason Landers, Corporate Investigations specialist, ACi Australia
Sue-Anne Lloyd, Whistleblowing Manager, Nationwide
Michael McTiernan, Senior Manager Global Investigations, Uber
Simone Nadelhofer, Partner, LA Live Law
Sanjeev Narrainen, Investigations and Compliance Specialist GC Fund
Charmaine Neo, Partner, Forte Law Singapore
Colins Ojiambo, CEO, OCS Group Kenya
Arthur Omuse, Investigations Specialist, AML
Imrich Pothe, Investigations Specialist Bluewin
Simon Scales, Group Conduct Investigations, Lloyds Banking Group
Rick Schumacher, Manager Global Investigations Nissan US,
Chris Sherwood, Confidential Investigations Manager, Financial Crime Compliance, M&G plc
Dominic Smyth, Head of Business Integrity & Investigations, Sandvik Materials Technology, Sweden
Flavio Teixeira, Head of Investigations, Anglo American London
David Vazzari, WKS Bildung KV Switzerland
Matthieu , Waechter, World Health Organisation
David Wolfe, Investigations Team Leader, The Global Fund Switzerland,
ISO has a membership of 163 national standards bodies from countries large and small, industrialized, developing and in transition, in all world regions. ISO's portfolio of over 18500 standards provides business, government and society with practical tools for all three dimensions of sustainable development: economic, environmental and social.