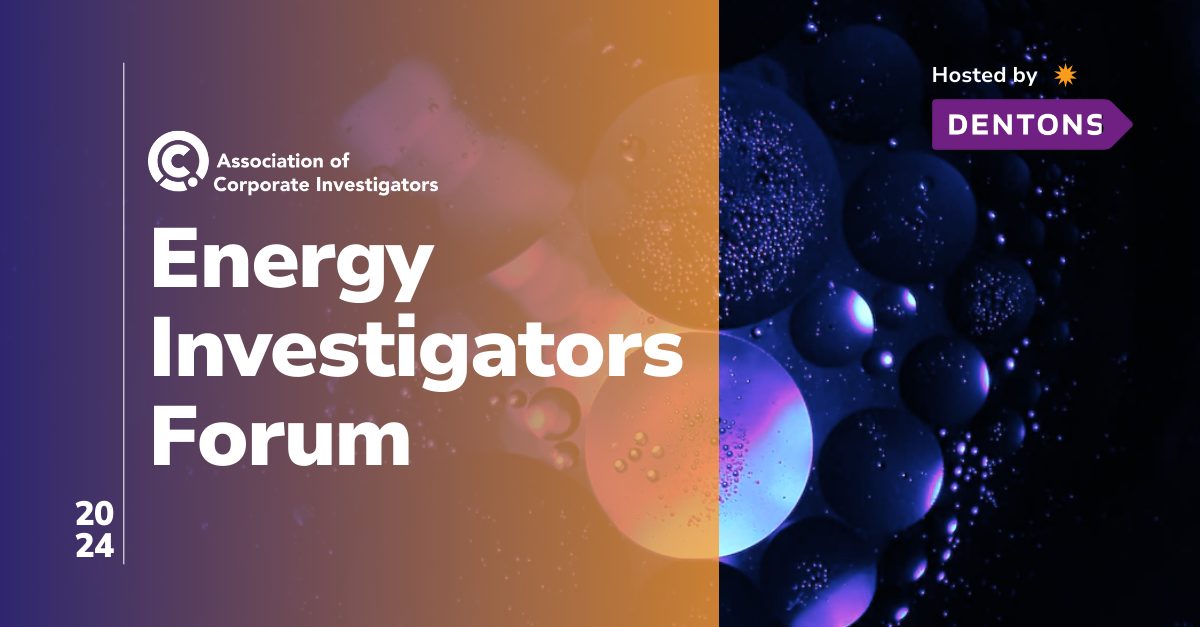 The Association of Corporate Investigators is delighted to announce its 2024 half-day Energy Investigators Forum to be held on Thursday, 25th April in London. We are kindly hosted by Dentons at their London offices.
With the new Failure to prevent fraud offence (Economic Crime and Corporate Transparency Bill) now in force, the ACI, together with Dentons Legal and Investigations team and other keynote speakers across industry, will discuss the relevance of this new offence for the energy sector and how that correlates with the demands on compliance with ESG, net zero commitments and crisis management. The event will also celebrate the launch of the new ISO Standard for Internal Investigations.
Agenda
08.30-09.00   Registration
09.00-09.10   Welcome, Dentons & ACi
09.10-09.25   Department for Energy Security & Net Zero
09.25-10.00  What Failure to Prevent Fraud means for the Energy Sector, insights from UK Law enforcement
10.00-10.20 The new ISO Standard for Internal Investigations
10.20-10.50   Morning Coffee Break
10.50-11.45   The challenges and complexities of ESG investigations and litigation in the energy sector
11.45-12.50  Fireside Chat with Dan Lund
12.50-13.00   Forum Wrap Up
13.00-14.00   Buffet Lunch and Networking
Our Speakers Include:
Andrew Penhale, Head of Regional and Wales Division of Serious Economic, Organised Crime and International Directorate

William Hebblethwaite, Home Office

Danielle Stevens, Department for Energy Security & Net Zero

Arjun Ahluwalia, Global Head of Sanctions and Geopolitical Risk, Santander (previously Shell)

Emma Walsh, Dentons Global Advisors

Helen Bowdren, Partner Environment and ESG, Dentons

Catherine Gilfedder, Partner, International arbitration, Dentons

Dan Lund, Partner, International Trade and Sanctions, Dentons

Rebecca Dix, Counsel, Global Investigations & Regulation, Dentons (formerly Associate General Counsel, Serious Fraud Office)
View speaker biographies here.
Hosted by Dentons