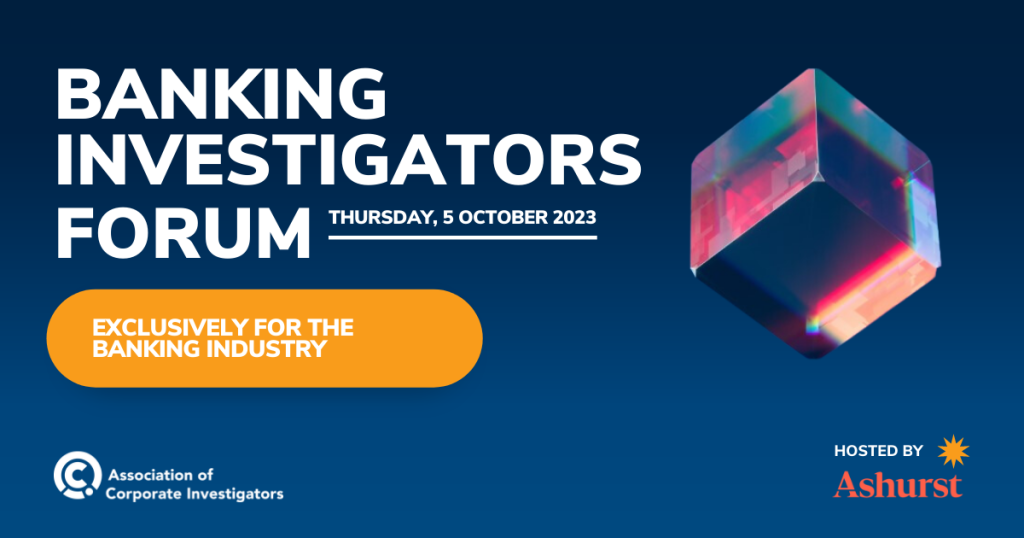 08.45-08.50
Forum Opening
ACi ExCo Moderator Welcomes Delegates
Speaker: Simon Scales, Chief Education & Training Officer, ACi
08.50-09.00
Welcome Addresses
Speakers: Tristan Bramble, Partner, Ashurst and Steve Young, CEO, ACi
09.00-09.05
Chair of the ACi BIF Opening
Speaker: Jon Shatford, Head of Investigations EMEA Region, Global Security, JP Morgan
09.05-09.30
Keynote Speakers Address
Speaker: Jason Sippel, Head of Global Credit Markets, Equities Trading, Prime Services & Public Finance, JP Morgan
09.30-10.15
For Good & For Bad: How AI is impacting banking investigations
AI technology has changed banking investigations forever. We'll look at the current state of AI and how we expect investigations to be impacted in the future. On the one side we will look at the criminal use of AI, such as deep fakes in action; and on the other we'll discuss how AI is being used positively; analysing high data volumes, reducing false positives, and helping lawyers strengthen their cases.
10.15-11.00
Trends in Banking investigations
Banking investigations are undergoing a shift towards a greater focus on conduct matters, and addressing ESG concerns such as modern slavery and greenwashing. As such, it is essential we understand the nuances of these investigations to manage them competently.
11.00-11.30 – Morning tea/coffee
11.30-12.15
Investigating the Insider threat and Human Risks
Insider Threat is a persistent issue in the banking industry. The threat landscape is constantly evolving, making it a challenge for banks to stay ahead. We look at how banks are using advanced technology like AI and machine learning to detect and prevent insider threats. And how Internal investigations teams are being proactive in preventing threats by monitoring employee behavior, implementing stricter access controls, and conducting regular security audits. We look at how implementing technology and proactive strategies, banks can effectively deal with insider threats.
12.15-13.00
Banking and crypto what does it mean for investigators?
In this session our presenters will give us the latest trends in crypto so that we can be prepared for what's coming down the track.
13.00-14.00 – Buffet Lunch
14.00-14.45
Failure to prevent offences
The failure to prevent fraud offence will apply to companies that meet two or more of the following conditions: a turnover of more than £36 million; a balance sheet total of more than £18 million; more than 250 employees. We take a detailed look at the legislation and offer advice on how to prepare organisations for compliance but also for the inevitable breaches that investigators will cope with in future. We'll also look at the Companies House Reforms and the impact on smaller organisations.
14.45-15.30
Investment Scams – latest methods
Investment scam cases and losses see huge increases in 2022 – the FTC alone received 104,703 reports of investment scams, an increase of 27 percent from just 82,564 reports in 2021. Our Panel will discuss their bank's experiences and share how they deal with them.
15.30-16.00 – Afternoon tea/coffee
16.00-16.45
What links an online marketplace, a flat in Cardiff and a £12 fee?
With Graham Barrow and Ray Blake from the Dark Money Files. How dark money takes forms such as money laundering, corruption, bribery, tax evasion enters the financial system and infects everything it touches.
16.45-17.00 – Forum Wrap Up
17.00-19.30 – Networking Drinks